Tutorial
The Retirement Planner by RetireSoft provides a simple new approach to retirement income planning. The video below is a series of 15 tutorials that demonstrate the software and teach how to use it. These tutorials can be viewed sequentially as a playlist (46 minutes) or individually by topic (about 2 to 5 minutes each).
"I'm impressed with this tool." ~ Rick L.
We recommend viewing the video at full screen size. To view the video full screen, click the

icon in the lower right corner of the video. To return to the small size, click the

icon in lower right corner of the full screen video.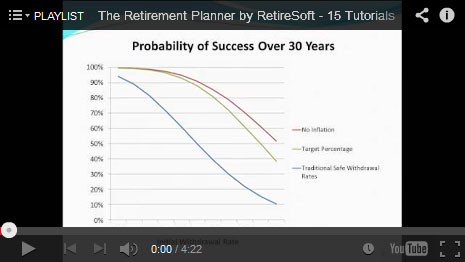 *The Retirement Planner is only $99.00 first year with
$49.00 annual renewals